I would like to extend a big thank-you to everyone who ever visited the previous Dark Future website, and to everyone who's emailed with a question, query or comment. Without this support for the previous site, I would have lost all interest in the game and certainly this site would never have come about. So give yourselves a pat on the back, and thanks! Oh, and don't forget to continue writing in...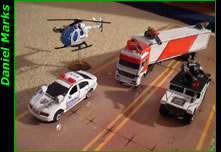 In addition, the Trolls at Games Workshop Limited deserve a mention for the fact that despite the game having now been out of print for seventeen years (at time of writing), they still answer questions about it...



Since the introduction of the Yahoo Groups in April '05, I would like to extend more thanks to all the members there as well. It just goes to prove that there is a loyal following for this game and it is alive and kicking!




And finally - but by no means least - extra thanks to all those who have contributed directly to this site including the artists, photographers, writers and the like.




---
Dedication:

This site is still dedicated to the pink cowgirl - whoever, wherever and whatever she is.