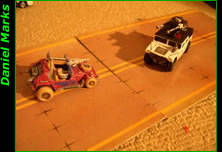 A lot can happen in the few seconds that is the turn of Dark Future. With some of the additional equipment that is presented in Future Highways, there may be some confusion as to when to check for effects, make rolls and so on. As such, I present the complete turn sequence below. Consult this if you have any queries as to when things should happen.
The first and second phases have been listed in detail. The first because its the first in the turn and has some events which do not occur on other phases. The second because all other phases should follow the routine found there.
Note that there are only ever 2 pedestrian phases in a turn.
---
Beginning of Turn
Roll for effects of Maxiscreamers.
Body Signature Changers can change their lock-on.

Phase 1

Phasing Die


Pedestrian Phase 1
All players roll one die. Activate pedestrian units, alternating highest first.

Roll for effects on pedestrian if on fire
Declare and perform pedestrian actions

Vehicle Phase 1
Each driver follows the sequence below in order of their speed. Fastest drivers go first, drivers not moving in the phase go second, stationary vehicles go third.

Driver declares their action.
Roll for effects if vehicle is on fire.
(Only do this in phase 1, never phases 2-6).
Roll for napalm spread and effects.
Any non-pintle or cupola gunners may fire weapons.
If the vehicle is moving fast enough, it may move and maneouvre.
Adjust vehicles speed due to the acceleration and braking.
Take any hazard rolls for manouevres, bends and passive hits.
Driver may fire passive weapons.
If able, the driver may fire weapons.
Targets suffering damage take effects and hazard rolls immediately.

End Phase

Phase 2

Phasing Die

Pedestrian Phase 2
This phase is only available to pedestrians or androids with more than one action.

Pedestrians with a second action may perform it now.

Vehicle Phase 2
Each driver follows the sequence below in order of their speed. Fastest drivers go first, drivers not moving in the phase go second, stationary vehicles go third.

Driver declares their action.
Roll for napalm spread and effects.
Any non-pintle or cupola gunners may fire weapons.
If the vehicle is moving fast enough, it may move and maneouvre.
Adjust vehicles speed due to the acceleration and braking.
Take any hazard rolls for manouevres, bends and passive hits.
Driver may fire passive weapons.
If able, the driver may fire weapons.
Targets suffering damage take effects and hazard rolls immediately.

End Phase

Phase 3:


Phasing Die

Vehicle Phase 3

End Phase

Phase 4:


Phasing Die

Vehicle Phase 3

End Phase

Phase 5:


Phasing Die

Vehicle Phase 3

End Phase

Phase 6:


Phasing Die

Vehicle Phase 3

End Phase
End of Turn